Regular price
$ 4,992.00 MXN
Regular price
Sale price
$ 4,992.00 MXN
Unit price
per
Sale
Sold out
San Juan Cancuc and Sitalá, Chiapas

Huipil of two canvases with a V neckline that combines two textile techniques characteristic of the state of Chiapas: weaving on a waist loom and hand embroidery, in two different communities that communicate through a textile piece to wear. The motifs of this huipil and the design of the embroidery pattern are inspired by the style of the Mexican architect Mario Pani.
The canvases have been woven on a waist loom with industrial cotton by the group "Las Tejedoras" in San Juan Cancuc, Chiapas, with a weft thread that forms a grid design when weaving, combining vertical lines assembled from the warp and horizontal lines that are added, using the brocade technique known as "xchilul", characteristic of the municipality of Cancuc.
The embroidery was in charge of the group "Las Azucenas" and "Las Rosas" in the municipality of Sitalá, with the cross-stitch technique, using a traditional design that they call "little squares." This technique is developed by placing a quadrillé base on the previously woven grid, in order to embroider each motif that will later be unraveled, thus leaving the embroidery placed on the loom canvas.
When finished, the two canvases are joined and the details on the sleeves and neck are embroidered using the braiding stitch with the thread that was used for the embroidery.

Care: Gentle hand washing without rubbing is suggested , preferably with the garment inside out, drying without exposure to the sun. You can take it to the dry cleaner and have it dry cleaned.
Technique : Backstrap loom
Measurements : One size / Length: 100 cm, width: 66 cm
Colors : Ecru/Beige/Coffee/Grey/Black
Materials : Industrial cotton
View full details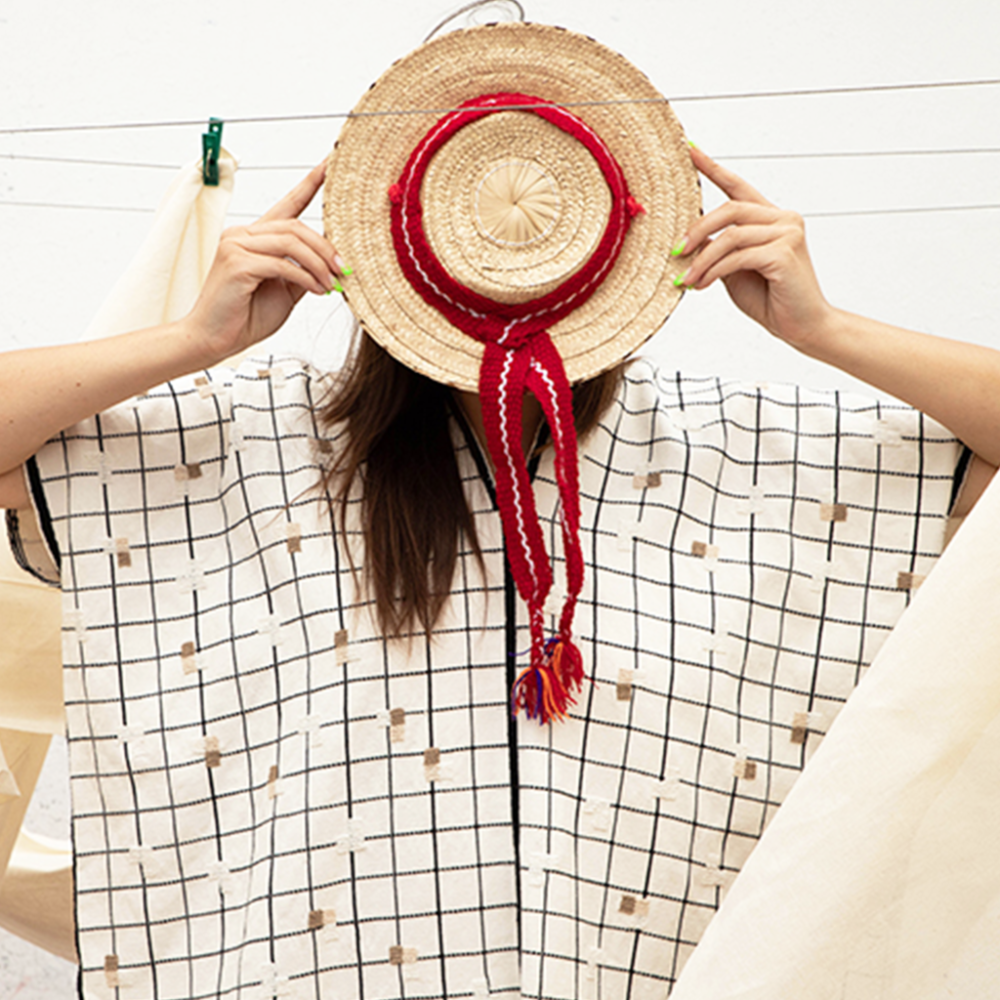 Aid to Artisans - Creative Learning Inc.
Aid to Artisans is a non-profit organization founded in 1976 with the goal of creating economic opportunities for groups of artisans around the world. In 2012 he joined Creative Learning, a non-profit organization that focuses on the protection of human rights and social and economic development, seeking to generate long-term social impact through its four branches.

In 2012 Aid to Artisans Mexico began its work seeing the need to have a local team and we currently work with artisans from Chiapas and the Yucatan Peninsula creating economic opportunities in economically vulnerable locations and/or where the housing situation and quality of life are at risk. risk.